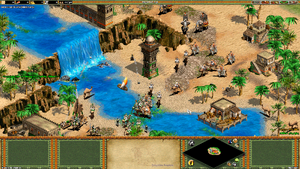 The Indians are a new civilization introduced in AoFE.
They are from India.
Bonuses
Villagers cost -5%/-10%/-15%/-20% in Dark/Feudal/Castle/Imperial Age.
Fishermen work 15% faster and carry +15 food.
Camels +1/+1 armor.
Team Bonus: Camels +5 attack vs. buildings.
Unique Units
Unique Technologies
Age: Castle age
Cost: 400 food, 400 wood
Research time: 40 secs
Effect: all gold income +10%
Age: Imperial age
Cost: 500 food, 350 gold
Research time: 40 secs
Effect: Hand cannoneers get +1 range
Wonder
Community content is available under
CC-BY-SA
unless otherwise noted.