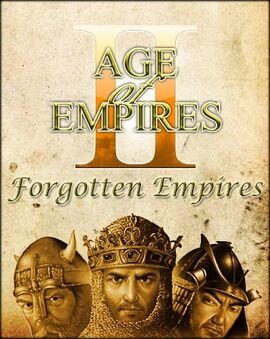 Age of Empires II: Forgotten Empires, also known as Age of Forgotten Empires and abreviated AoFE, is a new official expansion of the Age of Empires II series.
It was released on December 28, 2012. The latest patch is v2.2 which was released on May 10, 2013.
New Civilizations
New Units
Other units
New Buildings
Quimper Cathedral
Stable (for Americans)
Bombard Tower (for Americans)
Trade Workshop (different style for all civilizations)
New Wonders
Inca Wonder: Temple of The Sun
Indian Wonder: Taj Mahal
Italian Wonder: Basilica of San Lorenzo
Magyar Wonder: Hunyad Castle
Slavic Wonder: Kizhi Church
New Italian building set
New Slavic building set
New Technologies
Unique
New Maps
New Campaigns
Alaric I.
Francesco Sforza.
More TBA
New AI Personalities
In-Game Balances
All civs
Cartography is free to research, requires a market.
Cavalry Archers cost -5 gold
Palisade walls take +1 second to build
Stone walls take +3 seconds to build
Capped Rams garrison 5 units (from 4)
Fireships +20 HP
Demolition ships +10 HP
Building HP reduced in Dark and Feudal Age
Long swordmen +5 HP
Long swordmen (and up) +2 attack vs eagles
Long swordmen (and up) +1 hidden armor vs buildings
Trade cogs generate +10% gold
Monks holding relics suffer from anti-monk damage too now
Town Patrol costs -100 gold (300 food, 100 gold)
Murder holes costs -100 stone
Trebuchets can attack trees a lot better now
Onagers can kill trees
Outposts cost -5 stone
Petards cost -15 food (65 food, 20 gold)
Spear-line +2 attack vs camels
Stone walls -50% HP in feudal age
Fervor fixed (never worked in AoC)
Chemistry affects Castles and Town Centers
Heavy Camel upgrade -20 secs research time
Castles +1 LOS (range bug)
Villagers can be garrisoned inside rams
Aztecs
Free loom removed
Start with +50 gold
Jaguar warriors +1 pierce armor
Britons
Get Cannon Galleons
Longbowman creation time -1 sec
Receive Heavy Scorpions
Byzantines
Celts
Furor Celtica gives siege units +40% HP
Chinese
Town Center LOS +5 (moved from Teutons)
Franks
Foragers work +25% faster
Get squires
Throwing Axeman (non-elite) missile delay -2 (from 12 to 10, elite stays at 8)
Elite Throwing Axeman research cost -100 gold
Goths
Huns
Cannon Galleons removed
Huns cavalry archers cost -15% and -25% (castle and imp) -> reduced from -25% and -30%
Treadmill crane removed
Tarkan (non-elite) +10 HP
Japanese
Koreans
Turtle Boats -10% cheaper (180 wood, 180 gold)
War Wagon creation time decreased from 25 to 21 seconds
Fortifications (walls, towers, castles) built 25% faster
Team Bonus changed: Mangonels & Onagers minimum range reduced
Mayans
Base cost for Plumed archers increased to 50g, 50w
Mongols
Elite Cannon Galleons removed
(Elite) Mangudai Siege bonus mostly limited to Trebuchets and Rams: (+6) +4 vs Trebuchets, (+6) +4 vs Rams, +1 vs other siege, from (+5) +3 to all siege units.
Mangudai (non-elite) delay -50% (from 10 to 5)
Persians
Saracens
Spanish
Missionaries affected by Bloodlines
Teutons
Town Center LOS restored to normal (moved to Chinese)
Town Center garrison +10 units, maximum arrows +5
Town Center +2 attack removed
Teutonic Knight (non-elite) +10 HP
Team bonus fixed (didn't work automatically in AoC)
Turks
Elite janissaries are now affected by the Turkish teambonus
Vikings
Team Bonus: Docks -15% cheaper (rather than -25%) (Docks cost 128 wood instead of 113 wood)
Viking ship cost now staggered per age: 10% cheaper in Feudal (81w-27g), 15% in Castle (76-25), 20% in Imperial (72-24)
Get treadmill crane
Berserk (non-elite) +4 HP
Longboats wood cost same as galleys
Berserkergang cost 850 food, 400 gold, from 500 food, 850 gold
Other Features
Cobra car will have the color of the player.
Dead wolf invisible in fog of war.
Fixed colors for Windows 7.
Widescreen activated by default.
Windowed mode Scout bug fixed.
1000 population limit.
New resolution up to 1920*1440 (Widescreen included)
Maximum Age option
60 FPS in Single Player (AoC has 20 FPS)
Community content is available under
CC-BY-SA
unless otherwise noted.